Superfire rechargeable and robust UV flashlight - 365NM
vare nr.: #342-2
New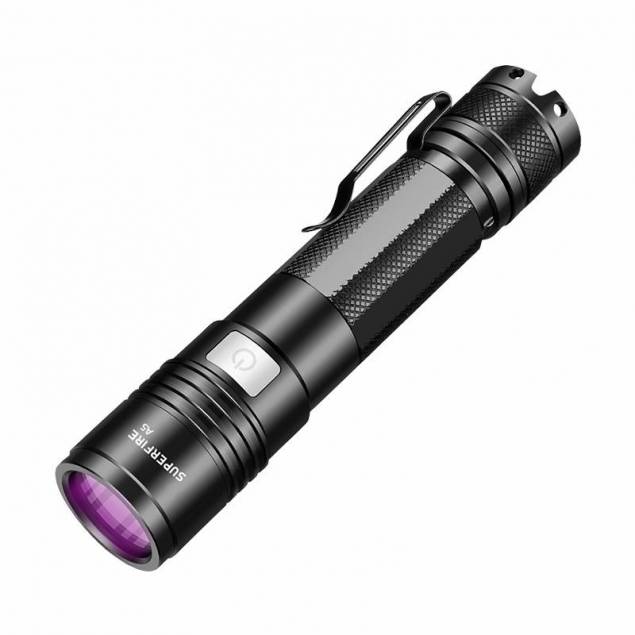 Superfire rechargeable and robust UV flashlight - 365NM
vare nr.: #342-2
---

Warning: Last items in stock!
---
will be send tomorrow at 16:30
Sent tomorrow Saturday at noon. 15.00
Sent tomorrow Sunday at noon. 15.00
Order now and we send about Hours og Minutes...
Saturday.
Sunday.
---
Robust and resistant, rechargeable UV flashlight for finding amber, tracks for play and geocaching, as well as pet waste and much more.
The Superfire UV flashlight is charged quite simply via its Micro USB port, so if you have a power bank with you on your trip, you always have power on your UV flashlight.
Battery life on a full charge is up to 120 minutes.
More Info ↓
👍We recommend together
ⓘ tryk på "tilføj til kurven" efter dit/dine valg.
---
200.000 danskere bruger os
---
---
Superfire rechargeable and robust UV flashlight - 365NM
A UV flashlight can be used for many different things.
Many possible uses
The most used possibilities are to spot amber on the beach, where the UV light will make the amber pieces light up and become much easier to spot.
UV light is also used to verify both official documents and banknotes, but probably very few people need it.
On the other hand, a UV flashlight is fun to use for treasure hunts and geocaching, because here the light can be used to find hidden clues, which have been written with a UV pen or paint, and which cannot be seen with the naked eye until you want to. instead with a UV flashlight.
Help with cleaning and disinfection
The UV light can also be used to find remains from your pets, if they are not completely clean yet and may decide to pee inside.
Here, the UV flashlight can reveal where extra cleaning is needed. Human body fluids will also glow in UV light.
Strong and resistant UV flashlight
The Superfire A5 rechargeable and robust UV flashlight can withstand drops of up to 1 meter, and it is resistant to rain and splashes without being certified waterproof.
The UV flashlight is made of strong aluminum and has precise threads, both of which help secure it against knocks as well as water and dirt.
The package includes a rechargeable battery of 2300 mAh and a USB to microUSB cable of 1 meter for use when charging, as well as a short manual.
There is now little need for a manual for this UV flashlight, as it is ready to use when you receive it - just remember to remove the protective cardboard disc from the back of the battery
Data Sheet
Fire:

Sku:

#342-2

EAN number:

6974760350320

Return:

300 days right of return

Dimensioner (L x H x B):

13 x 2,6 cm

Model No.:

A5

Model:

UV Flashlight Superfire A5, 365NM

Equipment:

Lommelygte

Weight:

133g

Product warranty:

Normal Danish manufacturer's warranty with 2 year warranty

She gate:

Micro USB

Materials:

Aluminium

Battery:

2300 mAh

Included:

USB til Micro USB kabel

FCC certificate:

Yes

CE certificate:

Yes

RoHS certificate:

Yes

WEEE certificate:

Yes

Possibility of pick-up in copenhagen:

Yes - can be ordered online for pickup.