Sinox gaming chair in black with red stitching for pros
vare nr.: #SE01-SXGC300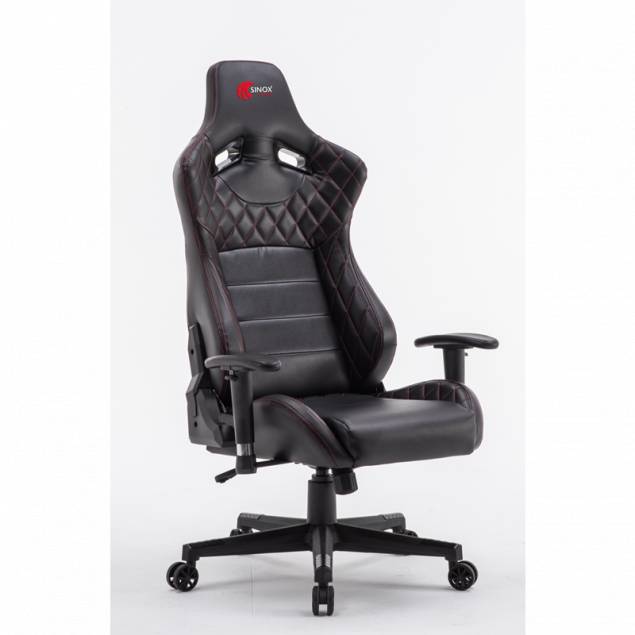 Sinox gaming chair in black with red stitching for pros
vare nr.: #SE01-SXGC300
---
Warning: Last items in stock!
ca. 1-3 day delivery
Shipping starts at

30

kr
of the item In Remote Storage
---
will be send tomorrow at 16:30
Sent tomorrow Saturday at noon. 15.00
Sent tomorrow Sunday at noon. 15.00
Order now and we send about Hours og Minutes...
Saturday.
Sunday.
---
MarvMarvMarvo gaming chair in an attractive modern design, inspired by the seats in modern racing cars and manufactured in high quality. The well-thought-out ergonomic design allows you to choose the optimal position to play without getting tired.. Synthetic leather. Maximum load 150kg. Leaning support: adjustable cushion. Height adjustable, 44 - 54 cm. Adjustable backrest.
More Info ↓
---
Shipped with GLS from Remote Storage
200.000 danskere bruger os
---
---
Marvo Gaming chair CH106 black/blue can be adjusted as needed so you can sit optimally when playing. This reduces the amount of wear that happens on one's spine when sitting down for many hours in a row, just as it makes it less strenuous for muscles and joints throughout the body.
The back provides great support, so you get high comfort when resting up there, just as there are pillows that support specific places on the back with high load. The synthetic leather provides a good surface to sit on that prevents you from slipping while rejecting dirt and sweat.
These different advantages are exactly what you're looking for from a gaming chair, which Marvo of course was aware of when they made this Marvo Gaming chair CH106 black/blue. Therefore, they can also afford to take premium price for it, as it can easily compete with other chairs.
Data Sheet
Fire:

Sku:

#SE01-SXGC300

EAN number:

5706808029155

Return:

300 days right of return

Model:

SXGC300

Equipment:

Accessories

Product warranty:

Normal Danish manufacturer's warranty with 2 year warranty

Technique:

Lændestøtte med justerbar pude Højdejusterbar 48-58 cm Sædebredde 53 cm Sædedybde 52,5 cm Cylindrisk gasløftesystem klasse 3 100 mm

Capacity:

Maksimal belastning 150 kg

CE certificate:

Yes