Choetech 2-pack 10W Qi Wireless Chargers - Black
vare nr.: #3154
New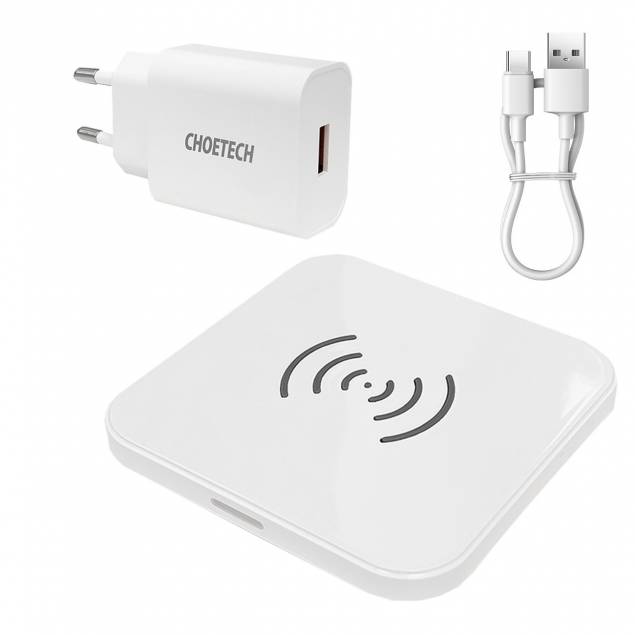 Choetech 2-pack 10W Qi Wireless Chargers - Black
vare nr.: #3154
---

Warning: Last items in stock!
---
will be send tomorrow at 16:30
Sent tomorrow Saturday at noon. 15.00
Sent tomorrow Sunday at noon. 15.00
Order now and we send about Hours og Minutes...
Saturday.
Sunday.
---
Complete wireless charger package for your iPhone or Android smartphone with both Qi charger, cable and 18W charger.
Here, in other words, you get everything you need and can immediately start enjoying wireless charging.
More Info ↓
---
200.000 danskere bruger os
---
---
As the capabilities and uses of mobile phones continue to grow, so does the need for efficient and practical charging solutions.
With the wireless charger from Choetech, you get both innovative technology and aesthetic design that fits into every home and office. The Choetech 10W Qi wireless charger comes in a stylish, white color and includes a USB cable and a power adapter, which ensures that you can use the charger optimally right from the start.
Design and build quality
Choetech's wireless charger presents itself with a simple but stylish design. The square charging plate is characterized by rounded corners and a discreet logo placement that signals wireless charging without disturbing the overall look.
An anti-slip material characterizes the base, ensuring that the charger stays firmly on surfaces and that your phone does not slide off while charging. The included white power adapter and USB cable complement the charger's design and ensure a holistic experience.
Technological specifications
Efficient 10W charging
With a top speed of 10W, the Choetech charger offers an impressive charging speed for devices that support fast wireless charging. This is especially important for those users who value time efficiency highly, as it means less time connected to the charger and more time on the move.
Qi compatibility
Qi standard is the leading technology in wireless charging and Choetech's charger is of course compatible with this standard. This means that a wide range of smartphones and other Qi-compatible devices can be charged without the use of cables.
Safety features
Choetech has equipped their charger with several safety features to protect your equipment. These include temperature control, over-current protection and short-circuit protection, all of which work together to ensure safe and stable charging.
Usability and comfort
Wireless charging with Choetech eliminates the need to deal with cumbersome cables. It's as simple as placing your phone on the charging pad, making it easy to charge your device at home or at work.
Portability
The compact size of the Choetech charger and its light weight make it an ideal travel companion.
The minimalist style and durable design ensure that it can slide effortlessly into your bag without bulking up or weighing too much.
Compatibility
Whether you have a newer iPhone, Samsung, LG or another Qi-compatible smartphone, this charger is designed for broad compatibility. This makes it a universal solution for wireless charging without the need to know anything about different standards and plug types.
Installation and startup
Choetech wireless charger is user-friendly and easy to set up. The package includes everything you need: the charger, the USB cable and the power adapter.
You simply connect the cable to both the adapter and the charger, then plug the adapter into an outlet. Place your Qi-compatible device on the charger and charging will begin automatically.
A harmony of form and function
Choetech's 10W Qi wireless charger offers a harmony of form and function, where modern design meets robust technology. This charging solution is not only a practical addition to your daily routine, but also an extension of your device's functionality and efficiency.
With Choetech, you get a charging experience that is optimized for the modern consumer who demands both style and substance in their choice of technology.
Compatibility
iPhone
---

iPhone 1

iPhone 3G

iPhone 3Gs

iPhone 4

iPhone 4s

iPhone 5

iPhone 5s

iPhone 5c

iPhone 6

iPhone 6 Plus

iPhone 6s

iPhone 6s Plus

iPhone 7

iPhone 7 Plus

iPhone SE

iPhone 8

iPhone 8 Plus

iPhone X / 10

iPhone Xr

iPhone Xs

iPhone Xs Max

iPhone 11 Pro

iPhone 11

iPhone 11 Pro Max

iPhone SE 2020

iPhone 12 mini 5,4"

iPhone 12 6,1"

iPhone 12 Pro 6,1"

iPhone 12 Pro Max 6,7"

iPhone 13 mini 5,4"

iPhone SE 2022

iPhone 13 6,1"

iPhone 13 Pro 6,1"

iPhone 13 Pro Max 6,7"

iPhone 14 Plus 6,7"

iPhone 14 Pro Max 6,7"

iPhone 14" 6,1"

iPhone 14 Pro 6,1"

iPhone 15 Plus 6,7"

iPhone 15 Pro Max 6,7"

iPhone 15" 6,1"

iPhone 15 Pro 6,1"
---
Data Sheet
Fire:

Sku:

#3154

EAN number:

6932112100184

Return:

300 days right of return

Dimensioner (L x H x B):

9,2 x 1 x 9,2 cm

Model No.:

T511-S

Model:

Choetech set of Qi 10W wireless charger for headphones black (T511-S) + 18W EU wall charger white (Q5003) + USB cable - microUSB 1.2m white

Equipment:

Wireless charger for iPhones

Charger

QI charging:

For all iPhone's 5W charging(Normal)

For all iPhone's 10W charging(fast)

For all iPhone's 7.5W charging (fast)

Product warranty:

Normal Danish manufacturer's warranty with 2 year warranty

He gate:

Micro USB

USB 2.0 connector

She gate:

Micro USB

Compatibility:

Qi charging, works with iPhone 8, iPhone 8 plus and iPhone X, Xs, Xs Max and Xr so far

Materials:

ABS

PC

Included:

Manual, 18W USB oplader og USB til Micro USB kabel på 1,2 m

FCC certificate:

Yes

CE certificate:

Yes

RoHS certificate:

Yes

WEEE certificate:

Yes

Possibility of pick-up in copenhagen:

Yes - can be ordered online for pickup.