Superfire X60-T powerful, waterproof and rechargeable flashlight - 1500lm
vare nr.: #029-1
New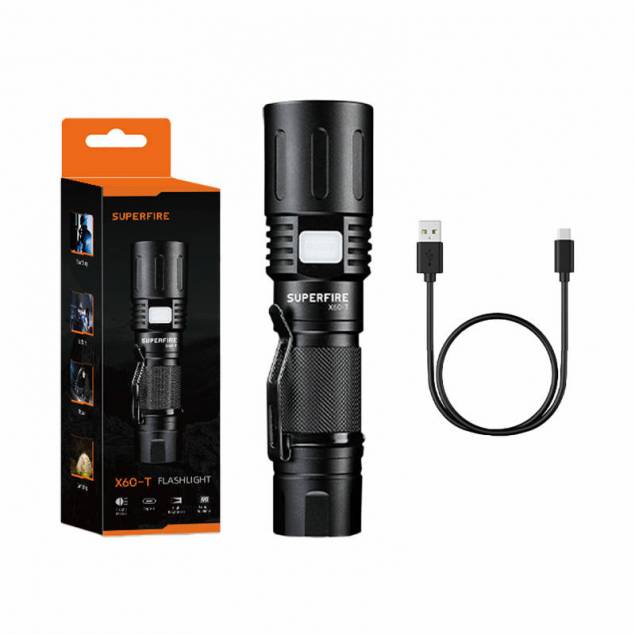 Superfire X60-T powerful, waterproof and rechargeable flashlight - 1500lm
vare nr.: #029-1
---

Warning: Last items in stock!
---
will be send tomorrow at 16:30
Sent tomorrow Saturday at noon. 15.00
Sent tomorrow Sunday at noon. 15.00
Order now and we send about Hours og Minutes...
Saturday.
Sunday.
---
Strong, compact and powerful flashlight of a whopping 1500 lumens, which is built in aluminum and has a rechargeable battery of 3700 mAh.
The flashlight measures only 15.8 x 4.1 cm and weighs just 282 grams, but it contains plenty of power, and the battery is even so large that you can use it as a power bank via the built-in USB port.
Super cool flashlight!
More Info ↓
👍We recommend together
ⓘ tryk på "tilføj til kurven" efter dit/dine valg.
---
200.000 danskere bruger os
---
---
Superfire X60-T powerful, waterproof and rechargeable flashlight - 1500lm
Are you looking for the perfect companion for your outdoor adventures, or do you need a reliable light source in case of power failure?
The Superfire X60-T flashlight is a fusion of robustness, high performance and ease of use that makes it an indispensable part of your equipment. Experience a flashlight that not only lights your way, but also withstands the harsh conditions of nature.
Powerful brightness and 5 different settings
With an impressive brightness of 1500 lumens, the Superfire X60-T cuts through the darkness like no other. The lamp's LED technology ensures an intense and strong light beam that can reach great distances, making it ideal for both professional and leisure activities.
By pushing the lens part forward or back, you can switch between focused and wide light cone according to your needs.
The flashlight also has three brightness levels and both strobe light and SOS.
Durability and waterproofing
The Superfire X60-T is not only powerful, but also engineered to withstand harsh environments.
Its robust aluminum material ensures that it can withstand shocks and impacts, and with its IP34 waterproof certification, it is protected against water splashes, which is essential for a flashlight that can encounter everything from heavy rain to accidental immersion in water.
Rechargeability - economical and environmentally friendly
With a rechargeable battery function, the Superfire X60-T offers a long-term solution to your lighting needs. This reduces the need for disposable batteries, which both saves money and protects the environment.
Included USB charging cable ensures that you can easily charge the light wherever you are.
Long battery life provides many hours of light without the need for frequent recharging - 3-8 hours depending on use.
Design and ease of use
An intuitive design with a non-slip surface makes handling the Superfire X60-T safe, even with gloves or wet hands.
This flashlight is designed to be comfortable to carry and easy to use, making it an ideal companion on camping trips, for geocaching or when working in poorly lit areas.
The X60-T comes with both a belt clip and wrist strap/lanyard.
A practical size that fits in your pocket or backpack.
Simple operation with a control button ensures trouble-free switching between the different light settings.
Versatile
Whether for everyday use, as part of your professional toolkit, or gear for outdoor adventures, the Superfire X60-T is designed to handle a variety of tasks.
The strong brightness and the versatile setting options make it a universal tool in many situations.
Perfect for security personnel who require a reliable light source.
Indispensable for hikers and campers who need to navigate in the dark.
Powerful, compact and lightweight flashlight for geocachers
Technical specifications
The Superfire X60-T is equipped with a number of technical features that ensure its superior performance.
Brightness: 1500 lumens
Battery: 3700mAh rechargeable
Water resistance: IP34 certified
With the Superfire X60-T, you get a flashlight that won't fail when you need it most.
Its durable construction, powerful light and rechargeable battery make it ideal for anyone who values quality and reliability in their personal equipment.
Data Sheet
Fire:

Sku:

#029-1

EAN number:

6956362902954

Return:

300 days right of return

Dimensioner (L x H x B):

15,8 x 4,1 cm

Model No.:

X60-T

Model:

Flashlight Superfire X60-T, 1500lm, USB

Equipment:

Lommelygte

Weight:

282g med batteri

Product warranty:

Normal Danish manufacturer's warranty with 2 year warranty

She gate:

USB 2.0 connector

USB 2.0 type c

Waterproof:

IP46 - Beskyttet mod højtryksvandstråler fra enhver retning

Materials:

Aluminium

Battery:

3700 mAh

Included:

Genopladeligt batteri, USB til USB-C kabel, holder til mindre batteri, håndledsrem og manual

FCC certificate:

Yes

CE certificate:

Yes

RoHS certificate:

Yes

WEEE certificate:

Yes

Possibility of pick-up in copenhagen:

Yes - can be ordered online for pickup.