Superfire L6-H compact, waterproof and rechargeable flashlight - 750lm
vare nr.: #202
New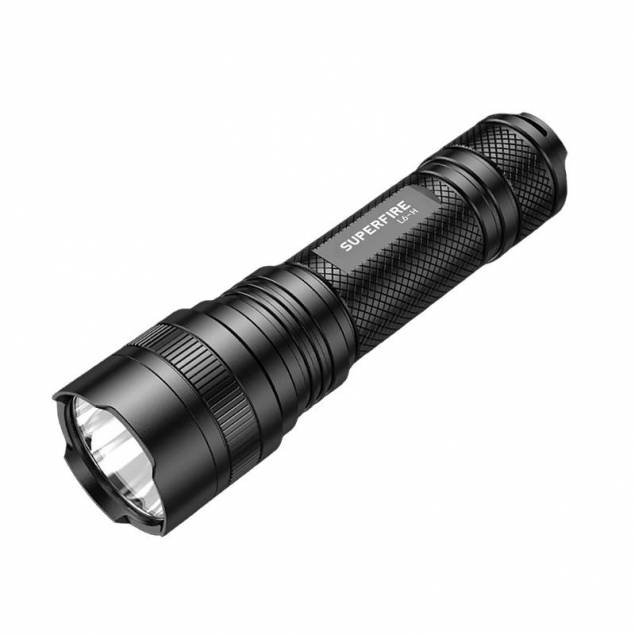 Superfire L6-H compact, waterproof and rechargeable flashlight - 750lm
vare nr.: #202
---

Warning: Last items in stock!
Item is out of stock
ca. Torsdag den 7. December
of the item In stock
---
will be send tomorrow at 16:30
Sent tomorrow Saturday at noon. 15.00
Sent tomorrow Sunday at noon. 15.00
Order now and we send about Hours og Minutes...
Saturday.
Sunday.
---
Compact and waterproof (IP46) rechargeable flashlight from Superfire with 3 brightness levels of up to 750 lumens and SOS and strobe light.
The Superfire L6-H is a well-built flashlight made of aluminium, so it can withstand most when you're out and about in the dark.
The battery life is up to 8 hours on a charge, depending on brightness.
NOTE: Remove the plastic from the battery before use.
More Info ↓
👍We recommend together
ⓘ tryk på "tilføj til kurven" efter dit/dine valg.
---
200.000 danskere bruger os
---
---
Superfire L6-H compact, waterproof and rechargeable flashlight - 750lm
The Superfire L6-H flashlight is a powerful and reliable companion for those who require brightness and robustness in a compact form.
The lamp emits an impressive light of 750 lumens, which is more than sufficient to illuminate even the darkest areas. It is important to mention that 750 lumens of brightness can light up a distance of up to 250 meters, which makes it ideal for both indoor and outdoor activities.
Durability and design
With a design that is both waterproof and shockproof, this flashlight is built to withstand extreme situations.
Its IP46 rating ensures it can withstand heavy rain and splashes from all angles, and its high-strength aluminum construction serves to further increase its durability.
In addition, the reinforced glass and the precise threading help to ensure a long service life even under the most demanding conditions.
Rechargeability and battery life
The Superfire L6-H is rechargeable, meaning you don't have to worry about changing batteries constantly. This is not only economical, but it is also better for the environment.
With the included rechargeable battery and USB to USB-C cable, you can easily charge the light via a charger, power bank, in the car or from another USB power source.
Light modes and usability
The flashlight comes with multiple light settings including high, medium, low, strobe and SOS function, making it incredibly versatile.
Size and portability
The compact size of the L6-H makes it easy to carry in a pocket or attach to a belt with the included wrist strap.
Its design is both elegant and functional, making it a flashlight that's easy to take anywhere without getting in the way.
Practical application
When you take your Superfire L6-H flashlight on a fishing trip, camping trip, night cache trip or hiking, you will immediately feel the benefits of its powerful light and durability.
It is also an ideal tool for security personnel, police officers and guards who need a reliable light in their work. At home, it is an indispensable resource during power outages or when you have to carry out tasks in dark corners of the house.
Safety features
The strong light and the easily accessible control button ensure that you can quickly activate the light's strobe or SOS functions in emergency situations, which can be crucial for your safety.
With its high-strength aluminum construction, you are also assured of a flashlight that can withstand being used as a potential self-defense tool.
Good flashlight for most people
With its powerful light output, robust construction and easy recharging, the Superfire L6-H is a flashlight that can handle all the challenges that the demanding outdoors throws at you.
Whether you are an adventurer, geocacher, professional or just need a reliable light source at home, the L6-H is an excellent choice.
Data Sheet
Fire:

Sku:

#202

EAN number:

6956362931497

Return:

300 days right of return

Dimensioner (L x H x B):

16,8 x 4,3 cm

Model No.:

L6-H

Model:

Flashlight Superfire L6-H, 750lm, USB-C

Equipment:

Lommelygte

Weight:

289g med batteri

Product warranty:

Normal Danish manufacturer's warranty with 2 year warranty

She gate:

USB 2.0 type c

Waterproof:

IP46 - Beskyttet mod højtryksvandstråler fra enhver retning

Materials:

Aluminium

Battery:

3700 mAh

Included:

Genopladeligt batteri, USB til USB-C kabel, holder til mindre batteri, håndledsrem og manual

FCC certificate:

Yes

CE certificate:

Yes

RoHS certificate:

Yes

WEEE certificate:

Yes

Possibility of pick-up in copenhagen:

Yes - can be ordered online for pickup.